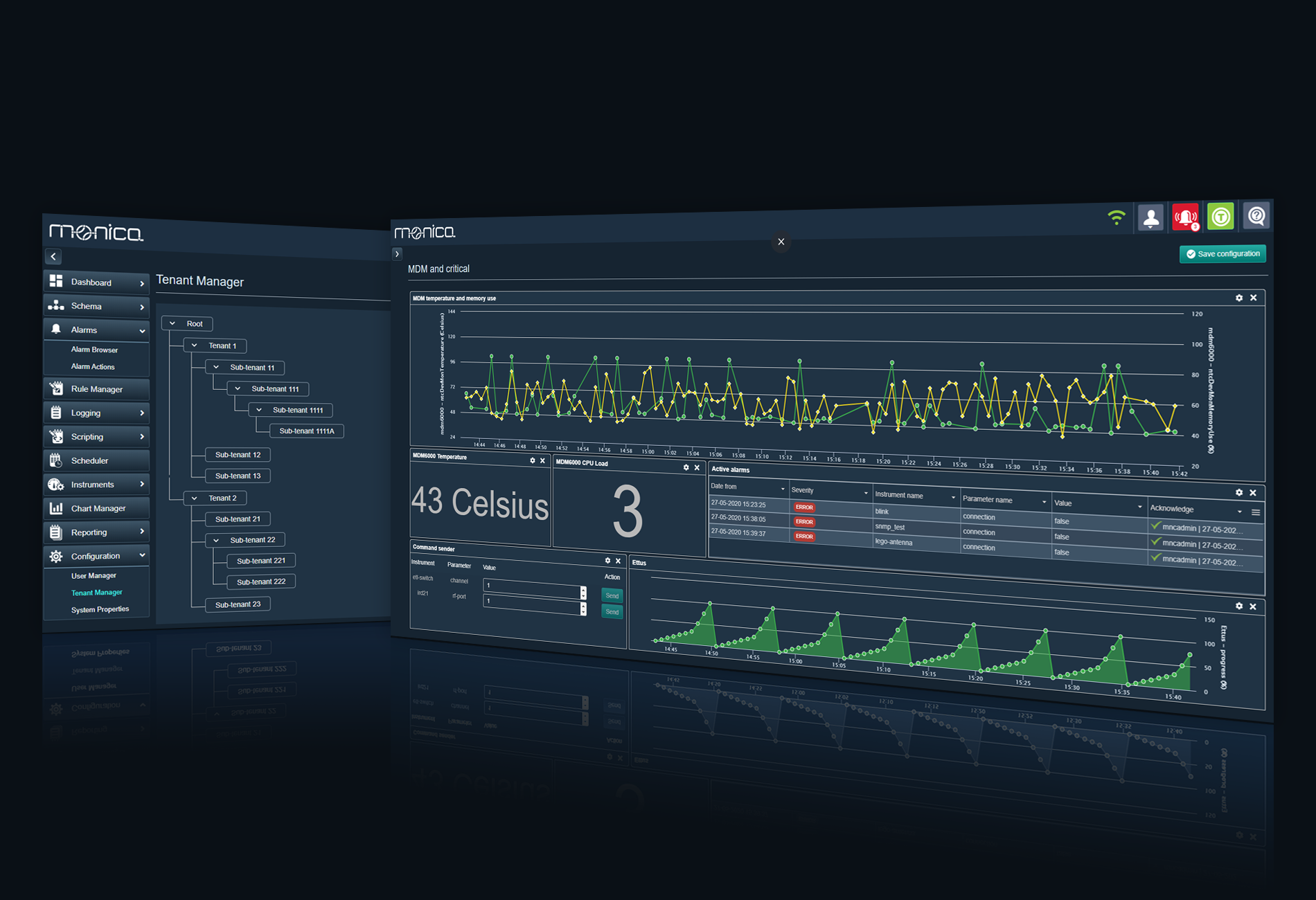 Monica Dashboard and Tenant Manager
Amphinicy's latest release of Monica Monitoring and Control solution is now available!
Monica 5 brings a lot of internal improvements and the possibility of parallel processing of even more data from various devices.
The client interface, Web GUI, has been improved and enhanced to speed up data access and device management. The alarm pop-up has been improved to display more useful information to operators. A snooze option has been added that allows the alarm to be temporarily silenced to allow uninterrupted system operation. Tables are now easier to filter and sort to further enhance the user experience.
The graphing component has been completely reworked and improved. Graph creation was never easier, making it possible to select more instruments and more parameters for each graph. Graph preview enables the operator to immediately verify what has been configured. Graphs are now listed in a table and it is possible to have private and public graphs if you want your colleagues to see and use the graphs you have created.
Two new features have been added to make easier system operations.
The first of these is the "Dashboard Manager" which allows us to create interactive dashboards. Dashboard manager provides an easy way to visualize parameters, alarms and various statuses coming from the devices without the need for programming knowledge. In this way it is possible to very easily create global dashboards that will be displayed on screens in the NOC and each operator can very easily create their own dashboard if they want to have their own data display.
We have finally made Monica multi-tenant. Multi-tenancy is integrated into Monica's bare core. Multitenancy manager allows flexible granulation of user rights and capabilities. It is now possible to completely separate the two systems without the need for separate installations and configurations. End users will have the impression that they are working on their own instance of Monica M&C but in the background, it will be just one instance. Also, if the administrator wants to restrict access to certain parts of the system or device in this way, it is available via a simple and intuitive interface.
Once again, Monica proves how it's easy to monitor and control your complete systems.