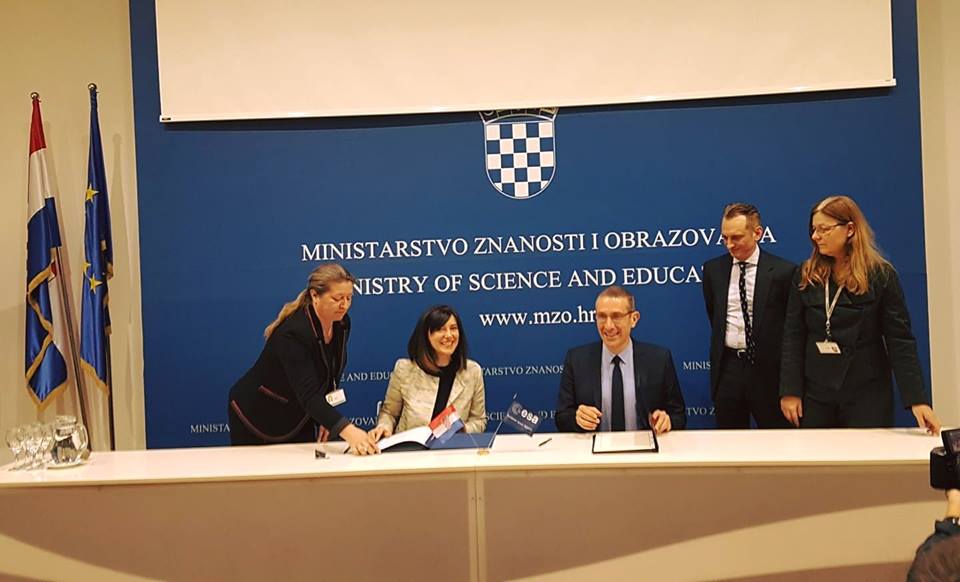 On 19th February 2018, the Government of Republic of Croatia signed the Agreement with the European Space Agency (ESA) for cooperation in peaceful exploration and use of outer space.
This is a big step forward for Croatian industry and science. This agreement will allow Croatia and ESA to create the framework for a more concrete cooperation related to ESA programmes and activities.

Ms Blaženka Divjak, Croatian Minister of Science and Education, and Mr Frédéric Nordlund, Head of External Relations Department, on behalf of the ESA Director General, signed the agreement in Zagreb, Croatia.

Minister Divjak said: "We need to build synergies through this agreement between space science, research, education and industry." She said that this agreement will speed up the networking of Croatian scientists and the economy in Europe as well as the development of areas from meteorology and environmental protection to satellite navigation and robotics. It will create valued opportunities for Croatia and ESA. With this agreement, ESA has established formal cooperation with all EU Member States.

The ESA Director General conducts a series of biannual meetings with representatives of the EU Member States that are not the Member States of ESA. Croatia attended these meetings and, through this agreement, is given the opportunity to participate as the observer in ESA Council meetings as well as that of its subordinate bodies. 
Mr Frédéric Nordlund emphasized that "Inspiration is important, and space is very inspirational. It is very important to invest in the future for new generations."

Among the Croatian entities involved in space are the Rudjer Boskovic Institute (RBI), Meteorological and Hydrological Service (DHMZ), the National Protection and Rescue Directorate (DUZS), Croatian Academy of Science and Arts (HAZU) and the Faculties of Science, Electrical Engineering and Computing, Geodesy, Transport, Mechanical Engineering and Naval Architecture of the University of Zagreb and other leading universities in Croatia.

Amphinicy is a software company operating for almost 20 years in the global satellite industry. We have delivered over 100 projects to the satellite market worldwide. Discussions between ESA and Croatia about a potential cooperation started in 2014. Amphinicy supported this initiative from the beginning by many public talks and technology and business panels. We will continue to promote satellite and space science and technology in Croatia and raise awareness about benefits that space is bringing as an important factor in technological, economic, scientific and cultural development.

We at Amphinicy are very happy and proud to be a part of this great step that brings new and exciting opportunities!